My duties as Director of Marketing & Communication for the Alliance have kept me busy lately. To balance that work, and the stress that job hunting brings, I've also been making a lot of artwork.
The Jellyfish & Pop Culture Series
As an adult I prefer the art on my walls be more mature, even if my heart aches to celebrate my favorite fandoms. This mashup experiment was a nod to the search for wall art that could do both.
Below is the Wicked Jelly of the West that I made in procreate and then animated on my iPhone with a fun app (paid) called MotionLeap.
Prints of Darth Jelly, Dr. Jelly, The Wicked Jelly of the West, and others await you at https://www.redbubble.com/people/DesignedByZeth/
The Jellyfish & Other Stuff Series
Prior to finding a strong subject matter, I experimented with the concepts of hurricanes, fireworks, and robots.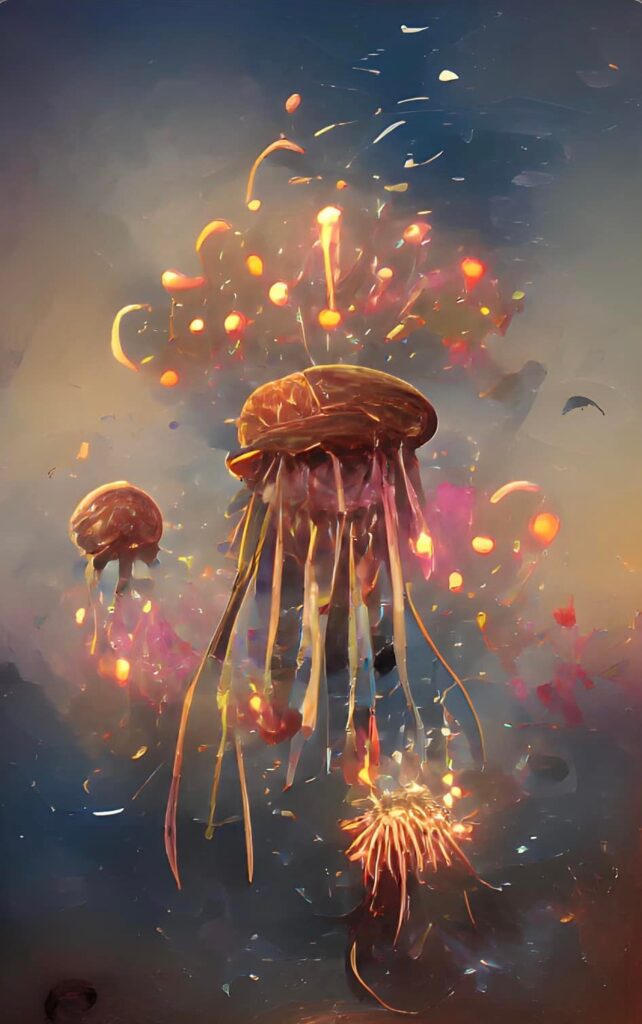 VQGAN+CLIP, ML, AI, and Neural Network Art
(This is the notebook I'm obsessed with: https://colab.research.google.com/github/chigozienri/VQGAN-CLIP-animations/blob/main/VQGAN-CLIP-animations.ipynb#scrollTo=wOSNC5SwHBry)
I have been exploring graphic and design programs since Print Shop on the Commodore 64. Lately, though, a breakthrough has been made in technology that has blown my mind like no other.
There are many Google Colabs out there that use artificial intelligence, advanced mathematics, and other generative methods of using technology, programming, and neural networks to make artwork.